Records That Came with Books & Magazines
These are CDs and flexi-discs that came with various books and magazines as bonus items.
The Rock Generation Flexi-Disc (Eva-Tone Soundsheets 101075AX, USA 1976 - issued with a book called Rock Generation; contains one spoken-word track with Zappa)
"Sharleena" Flexi-Disc (Stage version (from the sampler), issued with Guitar Player Magazine in January 1987)
"The Black Page #1" 8" flexi-disc (Synclavier version, issued with Keyboard Magazine, February 1987 - "Soundpage #29")
The Compact Sonora 4/94 (Materiali Sonori, CD 0593, Italy, April 1994)
"San Ber'dino" CD from Total Guitar magazine (1996)
New Rock: Sound Therapy (Greek CD from Pop & Rock magazine, December 1997)
Frank's Wildest Years! (Ryko / Hitch Hyke ZOO EP13 (?), from ZOO magazine, Greece, 1998)
Goldmine Classic Rock Digest CD (from Goldmine's 25th anniversary puplication, 1998)
"Who Needs the Peace Corps?" / "Electricity" CD from Uncut Magazine, UK, July 1999
"Piece of Cake: 20 Years of Ryko" from Mojo Magazine, November 2003.
A CD with "Son of Mr Green Genes" from Hot Rats came with Mojo Magazine, June 2004.
Unique material: spoken-word segment called "Decorating Time" - transcription below
The Rock Generation, an 80-page book about "the youth scene" from 1976, came with two black 8" 33-1/3-RPM flexi-discs including 24 spoken-word/interview recordings of rock stars, one of which features Frank Zappa. Both discs are labelled as Eva-Tone Soundsheets 101075AX and produced by Dennis C Benson. Zappa appears on disc one, the track list of which is:
Band 1 - Station WGIG Theme
Band 2 - Frank Zappa: Decorating Time
Band 3 - Crowd Sounds at Concert
Band 4 - John McLaughlin: Inner Peace
Band 5 - John Lennon: Groovin' on Love

Band 6 - Alice Cooper: God's Sense of Humor
Band 7 - Alice Cooper: Stage Character
Band 8 - Alice Cooper: The Good Life
Band 9 - The Osmonds: Expressing Faith
Band 10 - Alice Cooper: Organized Religion
Here's a full transcription of "Decorating time":
... gotta decorate time for other people, and in the process, I decorate time for my own amusement. So I just go around decorating pieces of time, with physical activity, notes, agitated air, and things like that. We can decorate time in a number of ways; there's all different kinds of architecture, there's all different kinds of design, there's all diff... different kinds of TIME DENSITY - and, depending on how much, er, interest you have in appreciated, appreciating decorated time, then, that will indicate how intensely that time may be decorated before it peaks your mind out - you know? Some people will see a, a, or be exposed to a decorated time event and be boggled by it because it is just too active for them to perceive, they can't unravel it, and other people ... will see a, a time event that might be, er, wonderful for one person, or, for another person might be too boring because there's not enough goin' on in it. I have a tendency to take time and ... work it to death.

We went through all those dilemmas sittin' around goin' "oh, what'll we do with the kids", you know? I think the best thing to do is ... give'em a little briefing, you know, tell'em ... "you're gonna be goin' to public school, you know, they're a little WEIRD out there, but, you know, just be tough, and, er ... go down there and do it!"

I can only speak from my experience with my own kids, 'cause ... they're the ones that I hang out with the most. They make up their own things that are fun to do, and whatever they like to do - we just let'em do it. You know? They wanna draw on the wall? Heh heh, go ahead, heh! We, as a matter of fact, when we found out they could draw very well on the wall, we got some unfinished furniture and gave'em some magic markers and told'em to do the furniture too! You know, whenever they do pictures, we always save'em, and put'em up ... and, er, they're encouraged to be as ... artistically creative as they wanna be. They dance ... er, if we put on a Stravinsky record, they ... go berserk, they run around the living room, and - Moon and Dweezil both, they do ballet! And - they also like to do stunts - you know, there's an alternative solution, you know, if you think ballet is a bit too POOFTERISH, they also like to kick things over and wrestle, and, er ... Dweezil likes KUNG FU and KARATE ... and, you know, like that! They decorate their time their own way.
At one time, you can hear an interviewer cough or laugh approximately 1.0 syllable. Circumstances of recording as of yet unknown.
The second disc:
Band 11 - John McLaughlin: Guru Sri Chinmoy
Band 12 - Fanny: Ain't Got No-o-o-o Religion
Band 13 - Alice Cooper: Fear of Death
Band 14 - David Byron: Electric Blast
Band 15 - Cass Elliot: Change Your Life?
Band 16 - Jim Croce: Balloon of Experience
Band 17 - Stephen Nathan: Immortality of Jesus
Band 18 - Drug Pusher: My Hobby

Band 19 - Bob Weir: High on Music
Band 20 - Steve Marriot: Drugs Need Discussion
Band 21 - Dan Fogelberg: Drunk with Parents
Band 22 - Bobby: The Road
Band 23 - Bobby: Joys of the Road
Band 24 - Cheech Marin: Grind of the Road
Informants: kkp5, Splat, Mikael Agardsson
Unique material: none
From Zappa & Son (Onstage Together for the First Time), a "soundpage exclusive" by Tom Wheeler, in Guitar Player Magazine, January 1987:
Our 20th anniversary issue required a unique Soundpage, and here it is: our first extended-play recording (40% longer than usual), our first digitally recorded and digitally mastered Soundpage, and the world premiere of the live version of "Sharleena". Recorded at the Universal Amphitheater in Los Angeles on December 23, 1984, it was the very first time that Frank Zappa and Dweezil Zappa teamed up on twin guitars in concert. An earlier version of "Sharleena" appeared on Frank's 1984 LP Them Or Us (Barking Pumpkin, SVBO 74200); Dweezil also contributed a solo to the studio recording. The Soundpage version is significantly longer than the four-and-a-half-minute studio cut. The live cut - in perhaps a still longer version [Was it? How long was the Guitar Player version?] - will appear on You Can't Do That on Stage Anymore, a Rykodisc CD scheduled for mid-'87 (Barking Pumpkin plans to release a 10-album LP set under the same name in early '87 [these plans changed a bit - it became a series of six double CDs and no 10-LP set]; for information on Zappa records, CDs, and concerts, dial 818-PUMPKIN).

Whip the Soundpage onto your turntable, fire it up, and start enjoying the soulful ensemble vocals and the rhythm section's infectious groove. At about two-and-a-half minute after that, his father comes in on co-lead guitar. It's a remarkable performance by any standard, but it's astonishing given the relatively brief time Dweezil had been playing guitar.
This was followed by interviews with Frank and Dweezil.
The Compact Sonora 4/94
Zappa material: interview segments
This CD came with the 4/94 Zappa special issue of the Italian magazine Sonora. It contains some Zappa covers, some originals by other artists and some interview segments (first and last tracks) with Zappa himself. (It only appears in this list because Zappa appears on it.)
1. Frank Zappa Speaks - Serious Music Lecture (02:35)
2. Damiano Puliti: Alien Orifice (05:00)
3. Bebo Baldan: Variation on a Basic Theme #8 (06:24)
4. P.I.T. Group: King Kong (02:11)
5. Maurizio Marsico & Andrea Tich: Baby Snacks (03:10)
6. Harmonia: Intro to Music for Low-Budget Orchestra (02:00)
7. Militia: Studio Z (03:45)
8. Yahozna: The Black Page (04:10)
9. Timet: Z(x)=T (05:14)
10. Isabelle Antena: Village of the Sun (04:10)
11. Paolo Lotti: Muffin Man (02:40)
12. Giampiero Bigazzi: Farewell, Frank (04:00)
13. The Durutti Column: Times Like These (05:10)
14. Hector Zazou & Ryuichi Sakamoto: Realeza (03:40)
15. De Corto: Il re Dell'Incubo (03:44)
16. Le Forbici di Manitu': Il Mal Della Pietra (03:08)
17. Orio Odori: Costruzione (06:00)
18. Arlo Bigazzi: Berlusconia (00:38)
19. Frank Zappa: A Last Word or Two [not listed] (00:11)
"Audio Magazine" Discs
James Croston kindly sent along a list of the Zappa tracks included on the Greek "Audio Magazine" series of discs-with-magazines. They are as follows:

Title: Audio 11
Date of Issue: August 1995
Label Number: Audio / CD-11
Zappa material: Cosmik Debris (from Apostrophe -- Presumably the Quad Mix)

Title: Audio 12
Date of Issue: September 1995
Label Number: Audio / CD-12
Zappa material: Peaches En Regalia (from Strictly Commercial: The Best of Frank Zappa)

Title: Audio 13
Date of Issue: October 1995
Label Number: Audio / CD-13
Zappa material: Cletus Awreetus Awrightus (from The Grand Wazoo)

Title: Audio 14
Date of Issue: November 1995
Label Number: Audio / CD-14
Zappa material: ? Saw listed on eBay with a Zappa song, but forgot to write it down

Title: Audio 15
Date of Issue: December 1995
Label Number: Audio / CD-15
Zappa material: Holiday In Berlin, Full Blown (from Burnt Weenie Sandwich)

Title: Audio 16
Date of Issue: January 1996
Label Number: Audio / CD-16
Zappa material: Sofa No. 1 (from One Size Fits All)

Title: Audio 17
Date of Issue: February 1996
Label Number: Audio / CD-17
Zappa material: Directly From My Heart To You (from Weasels Ripped My Flesh)

Title: Audio 19
Date of Issue: April 1996
Label Number: Audio / CD-19
Zappa material: I Don't Wanna Get Drafted (from You Are What You Is)

Title: Audio 22
Date of Issue: July 1996
Label Number: Audio / CD-22
Zappa material: Anyway The Wind Blows (listed as The Mothers of Invention) (from Ruben & The Jets)

Title: Audio 24
Date of Issue: September 1996
Label Number: Audio / CD-24
Zappa material: Inca Roads (from One Size Fits All)

Title: Audio 26
Date of Issue: November 1996
Label Number: Audio / CD-26
Zappa material: Duke of Orchestral Prunes

Title: Audio 29
Date of Issue: February 1997
Label Number: Audio / CD-29
Zappa material: Uncle Remus (from Apostrophe)

Title: Audio 34
Date of Issue: July 1997
Label Number: Audio / CD-34
Zappa material: Disco Boy (from Zoot Allures - but edited to only 4:22 minutes)

Title: Audio 36
Date of Issue: September 1997
Label Number: Audio / CD-36
Zappa material: Aybe Sea (from Burnt Weenie Sandwich)

Title: Audio 40
Date of Issue: January 1998
Label Number: Audio / CD-40
Zappa material: Mystery Roach (from 200 Motels)
As a note, I have some of these promos, and they're very varied things; additionally, they contain some tracks by Greek artists, which you're not likely to find elsewhere.
Unique material: none
Around when the Au20 audiophile CDs of One Size Fits All and Apostrophe (') were issued (1996), Total Guitar magazine issue 22 carried a CD on the cover with "San Ber'dino" on it (from the One Size Fits All Au20 CD). (Remember, the Au20 CDs were more the gold versions of the regular CDs; they were totally remastered.)
Informant: Tony Burke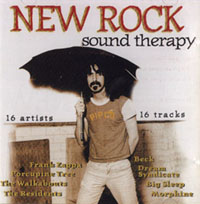 Unique material: None
Zappa material: "Titties & Beer"
This CD came with the December 1997 issue of a Greek music magazine called Pop & Rock. (The track list is incomplete and may not be correct, because it was copied from a bad scan of the track list on the back cover, which was not entirely legible.) Nice cover!
1. Bloom: I Just Don't Know What to Do with Myself
2. Momus: Good Morning World
3. Die Krupps featuring The Crazy World of Arthur Brown: Fire
4. Big Sleep: Crying for Barbara
5. Louis Tillet & Charlie Owen: Summer
6. Chris Cacawas & Junk Yard Love: Truth
7. The Walkabouts: Jack Candy
8. Dream Syndicate: Boston
9. Porcupine Tree: Stars Die
10. Sacred Cowboys: I Am The Walrus
11. Morphine: Honey White
12. Girls Against Boys: Kill the Sexplayer
13. Beck: Asshole
14. Fleshtones: American Woman
15. The Residents: Jailhouse Rock
16. Frank Zappa: Titties 'N' Beer
Informant: Taxl, James Croston
Goldmine Classic Rock Digest CD
From István Fekete:
There's this book on my bookshelf ... I picked it up this last July in Denver. It was published for the 25th anniversary of Goldmine Magazine and includes a Zappa interview and "Peaches en Regalia" on the accompanying CD.

Goldmine Classic Rock Digest
ISBN 0-87341-688-0
(C) 1998 Krause Publications

These are the words on the back cover:

Goldmine Magazine has given its readers a backstage pass for over 25 years. Now emptying its vaults in celebration of its silver anniversary, here are some of the most memorable interviews ever published in Goldmine, along with some of the best record collecting information available anywhere.

In the Classic Rock Digest, You'll find:

Rare looks at the musicians who helped make rock 'n' roll great, from Robert Plant to Roy Orbison, from R.E.M. to the Rolling Stones.
A CD of classic rock gems, including prime cuts by the Kinks, Aretha Franklin, The Knack, Todd Rundgren, Ray Charles and more.
Information on some of the rarest albums and 45s of the rock era.

The Zappa interview (pp. 246-259) is the one by William Ruhlmann from the January 27, 1989 issue of Goldmine. There's also a "This issue's Five Star Record" page on p.35 about Hot Rats.

The CD included with the book was produced by "Rhino Special Products" and has the catalog number of R2 7404. The tracks are:

1. Aretha Franklin: The Weight
2. Mott the Hoople: Midnight Lady
3. Bill Wyman & the Rhythm Kings featuring Eric Clapton: Melody
4. Curtis Mayfield: (Don't Worry) If There's a Hell Below, We're All Gonna Go
5. Frank Zappa: Peaches en Regalia
6. Todd Rundgren: Hello, It's Me
7. Ray Charles: The Night Time Is the Right Time
8. The Knack: Harder on You
Unique material: none
This is a 4-track CD that came with an issue of ZOO magazine, in Greece, in 1998. It was packaged in a digipak, and the tracks were:
1. Peaches en Regalia
2. Willie the pimp
3. Dirty Love
4. Fifty-Fifty
On the front it has the One Size Fits All cover (except the sofa is blue) with little Hot Rats and Over-Nite Sensation covers edited into the hands in the upper- and lower-left corners. On the back cover, there's a bit of the Waka/Jawaka picture - the sink and the taps, with the "FRANK ZAPPA" writing moved from the wall to the edge of the sink, and the words "HOT" and "RATS" deleted from the taps.
Informants: Mikael Agardsson, Taxl, ELLIOSENOR
"Who Needs the Peace Corps?" / "Electricity" CD from Uncut Magazine
Unique material: none
Zappa material: "Who Needs the Peace Corps?"
The July 1999 issue of the UK magazine Uncut came with a bonus CD containing Zappa's "Who Needs the Peace Corps?" and Captain Beefheart's "Electricity" (from the then current Beefheart box Grow Fins). The issue had two articles on Zappa - one on the We're Only In It for the Money album, and one on the court case in 1975 over the Royal Albert Hall concert contract. The price was two pounds.
Informant: Tony Burke
Piece of Cake: 20 Years of Ryko
Unique Material: None
Zappa Material: I'm the Slime
The November 2003 issue of Mojo Magazine included a Rykodisc sampler.
1: Big Star - Thank You Friends
2: Josh Rouse - Slaveship
3: Warren Zevon - Numb as a Statue
4: The Fire Theft - Chain
5: The Flaming Lips - Chrome Plated Suicide
6: Frank Zappa - I'm the Slime
7: Morphine - Cure for Pain
8: Pilot to Gunner - Barrio Superstarrio
9: Meat Puppets - PLateau
10: Tourmani Diabate - Jarabi
11: Robert Wuatt - Lullaby for Hamza
12: Spanish Harlem Orchestra - Mama Guela
13: The Replacements - I Will Dare
14: Soul Asylum - Freaks
15: Alejandro Escovedo - Crooked Frame
16: Joe Jackson Band - Still Alive
17: Galaxie 500 - Fourth of July
18: Spain - Untitled #1
19: Kelly Willis - Wait Until Dark
20: Kelly Joe Phelps - Window Grin
Additional Informants