Day 7
Today's journal is written by Kim Davis:
Well, it poured again last night. Surprisingly enough Laura and I stayed pretty dry. We went to the Mesa Verde museum and then to Cliff Palace. Most of us then received our Junior Ranger badges. We arrived at Red Rock camp ground in New Mexico around 4:30 PM. At 5:30 PM we left to do our wash and shop. Half of us went to the grocery store, the other half to the laundromat. I went to the grocery store. We bought more food then we'll need, but at least we won't run out. When everyone was done we went to the laundromat to help out the others. It was pretty fun. We didn't get back to the campsite until almost 9:00 PM! Many of us had boughten meat at the store to eat for supper that night, but it was too late to cook it. We were told we'd have to cook it in the morning for breakfast! Somehow I doubt I'll be able to eat a cheeseburger at 7:00 in the morning! We didn't even bother to set up our tents. We just laid our tarps out on the sand and threw our sleeping bags on top and went to sleep.
---
Note: Journal entries and snapshots will be updated one day after they occur.
---
Snapshots From Day 7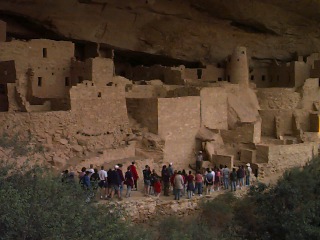 Friday morning everyone got up early to check out the cliff dwellings at Mesa Verde. Here is a shot of the largest dwelling, Cliff Palace.

---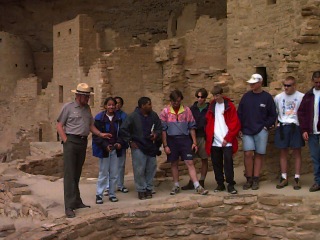 While touring Cliff Palace, the group was led by a park ranger, who was very informative. It just so happened that he gave the tour to WFS last year!

---
Additional photos (click for larger image):

Spruce Tree House at Mesa Verde

Spruce Tree House at Mesa Verde

Spruce Tree House

Spruce Tree House

Cliff Palace at Mesa Verde

Cliff Palace

Cliff Palace

On of the smaller dwellings

The group at Cliff Palace

Cliff Palace

Cliff Palace

Looking from Cliff Palace

The park ranger

Cliff Palace

Rob, Kim, Jess, Jeff, Laura, Cheryl, Erin, Keri, Steig (in back), and Troy

Matt, Mike, Carla, Christina, John, and Kori

Garrett and Steig leaving Cliff Palace
All additional photos by Luke Pacholski
---
Previous/Next entries: