Day 4
Today's journal is written by Lee Elliott:
I got up and brushed my teeth, cleaned up all my stuff and got on the road to the visitors center at the Beaver center check in to the park. Went to go get gas and went to the top of the trail ridge road. Got to 12,000 ft above sea level. Got a lot of narly pictures of the scenery. But my hip still hurts from 8 mile hike to the top of Flat Top Mountain. Stopped to get Brian's junior ranger badge and off to Leadville. We drove on I-40 forever, and then went on to 131, then went to Leadville. We got our sites at the camp. We were on site 18. Ate half done Rice-a-Roni and corn, got some nice pictures of the sunset over the mountains, it would have better but Luke's report took too long. It was me John, Jeff, Sarah and Rob taking pictures. Got back to the site, went up by red unit and sat by the fire until 10. That night we talked about stuff and reminiced about days gone by. Walked a few people back to sites at 10, because I was the only one with a flashlight.
---
Note: Journal entries and snapshots will be updated one day after they occur.
---
Snapshots From Day 4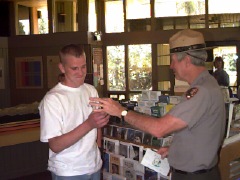 Brian Geisler enjoys himself while getting his very own junior ranger badge from a ranger in Rocky Mountain National Park.

---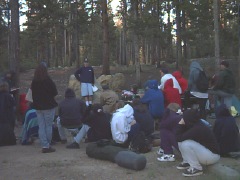 Luke Pacholski gives his presentation on Leadville. The report focused on the history and mining in the area.

---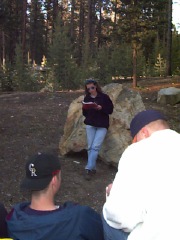 Carla Montgomery tells the group about weather in the Rockies.

---
Previous/Next Entries: