Day 3
Today's journal is written by Rob Fritchen:
After my first good nights sleep under the stars, I got up early to go for a hile in the mountains with Steig. We had oatmeal for breakfast then hopped on the killer bee (the school bus) and drove to some nice trails. Mr. Steig gave us two hours to hike where ever we wanted or just follow him. The hike planned was about 2.2 miles round trip. When we got to the first lake (I don't remember the name) you couldn't believe how beautiful it was! There was a line of trees in the middle with big snow capped mountains above and the water was reflecting the mountains. The next major thing was the river, the rapids, and a little waterfalls were just amazing. The best part though was Dream Lake, the most beautiful sight I have seen yet!
We met back at the bus and went to the campsite. I had Spaghetti O's for lunch and then went into town at 11:30. The town was a nice tourist town with everything being expensive and lots of nice shops. We were there for a couple of hours and then went back to the campsite to prepare for a hike to the top of the mountains. We started going up as a group, then John, Brian, and I broke off and got way ahead of everyone. We made it to where we were supposed to and decided to go up higher. The climb was just straight up over a bunch of rocks. We had to stop and rest every 20 minutes to catch our breath because of the altitude. It was a hard climb but it was worth it. It took us 3 hours to get up there. You could see everything, you felt like you were on top of the world! We were the only three to make up there. I took so many pictures. The way down was harder. I got a really bad stomach ache, and had to go down really slow. But when we finally got down, Mr. Steig left us and we had to wait a long time for him to come back and get us. I got back to camp and slept like a rock.
---
Note: Journal entries and snapshots will be updated one day after they occur.
---
Snapshots From Day 3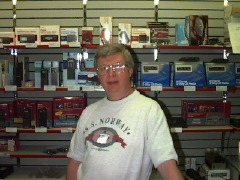 Mr. Bob Anderman of Hobbytronix in Estes Park was kind enough to let us use his phone line and power for our web page upload.

---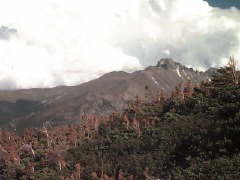 Some of the spectacular scenery in Rocky Mountain National Park.

---
Additional photos (click for larger image):

Scenes from the Flattop Mountain Trail in Rocky Mountain National Park

From the Flattop Mountain Trail

Kori and Chris hiking up Flattop Mountain

Chris and Kori again

Another from the Flattop Mountain Trail

Kori

Another of Kori
All additional photos by Luke Pacholski
---
Previous/Next Entries: