Day 30
Today's journal is written by Matt Koepnick:
This morning we woke up at the usual 6:00 AM and were gone by the usual 7:00 AM. On the way out of the campground we saw that the sheep around Devil's Tower had found their way onto a site where a couple were eating breakfast. It was pretty funny. There must have been 3-5 dozen. We drove to Rapid City and dropped Mr. Saber off at the airport at 9:10 AM. Then we filled up on gas and took off again. We got to Mount Rushmore at 10:40 AM. We got until noon to do what we wanted. At noon we heard the report. As we were all walking back to the bus we looked behind us and it was pouring rain about 50 feet behind us, and it was coming fast. Everyone ran to the bus and piled into it. I missed getting wet by about 3 seconds. At 12:30 PM we took off again. We drove through Custer State Park on a tiny winding road. The turns were so sharp that once we had to stop and back up to make the turn. We also went through a little tunnel that barely gave us any clearance. We were going to go on a road called the needles but we had to turn around because the bus wouldn't fit through a tunnel. We drove some more without stopping until we got to the campground at Wind Cave at 2:00 PM. We have a report presentation at 8:00 PM, but we have the rest of the day to ourselves.
---
Note: Journal entries and snapshots will be updated one day after they occur.
---
Additional Note: Once again we apologize for the lag in our updates. We are finding that high technology, roughing it, and a stingy National Park policy make it difficult to modify and make connections on a regular basis. Thanks for sticking with us despite these delays. Galen and Luke.
---
Snapshots From Day 30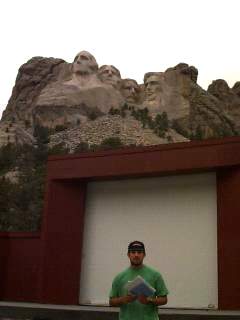 Chris R. gives his report at Mount Rushmore National Monument.

---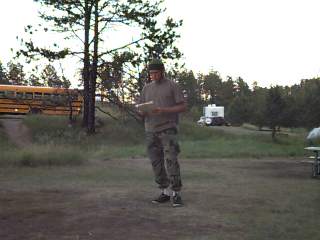 Jeff Elliott gives his report at Wind Cave National Park.

---
Previous/Next entries: