Day 22
Today's journal is written by Mrs. Saber:
We started out our day taking a tour of Wind Cave in southwestern South Dakota. The tour took us 800 ft. into the Earth. Wind Cave is one of the most complex cave systems in the United States. Cave temperature was a cool 59 degrees F. The next task of the day was to drive to Badlands National Park. The 3 hour trip went quickly with construction popping up here and there. Upon arrival, we spent an hour touring the Park, Visitors Center, and Gift Shop. When we exited this Park it was our last National Park stop on the WFS trip. The bus made its way east along the very flat Interstate Hwy 90. Around 8:00pm we stopped at Chamberlain, SD for dinner. Everyone was treated to pizza, soda, and music. It was a great way to spend one of our last night together. The day was still not complete, as the big yellow bus continued east. Day 31 ended at about 3:15am at a wayside in Minnesota. It was a great day!!
---
Note: Journal entries and snapshots will be updated one day after they occur.
---
Additional Note: Once again we apologize for the lag in our updates. We are finding that high technology, roughing it, and a stingy National Park policy make it difficult to modify and make connections on a regular basis. Thanks for sticking with us despite these delays. Galen and Luke.
---
Snapshots From Day 31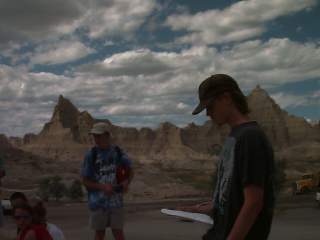 Rob Fritchen gives his report on Badlands National Park.

---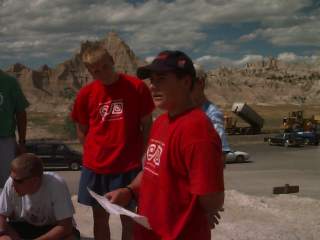 Steve gives his report on the great plains in Badlands National Park.

---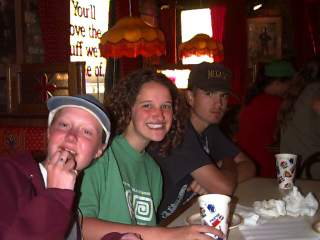 Sarah, Kori and Rob have some fun while the group stops at Pizza Hut.

---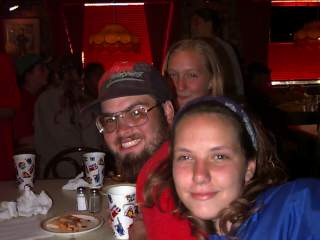 Lee, Cheryl and Megan smile for the camera while enjoying themselves at Pizza Hut.

---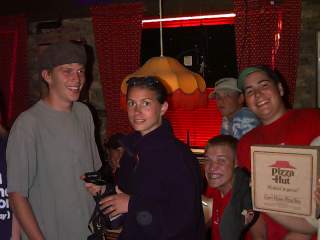 John, Carla, Brian, Casey and Steve smile and get ready to head out of Pizza Hut.

---
Previous/Next entries: