Day 2
Today's journal is written by Jessica Murphy:
Everything seems to be working out. The morning was great we left 10 mins ahead of schedule. So far everyone has had a good attitude which makes things more fun, we did a bit of driving, but as soon as we came in to Rocky Mt. National Park it was all worth while. Me and some friends took a hike and I saw the most beautiful mountain setting. Wow! What a rush.
---
Note: Journal entries and snapshots will be updated one day after they occur.
---
Snapshots From Day 2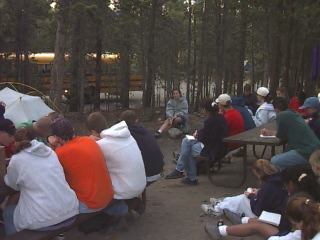 Laura Houle gives her Rocky Mountain presentation to the group.

---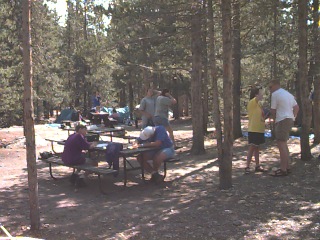 Campground activity around group site number six. After a rainy night in Nebraska, tents and tarps are drying in the warm sunshine of eastern Colorado.

---
Additional photos (click for larger image):

Our camp at Rocky Mountain National Park

All additional photos by Luke Pacholski
---
Previous/Next Entries: