Day 28
Today's journal is written by Peter Toll:
For some people, today was probably the best day of the trip because we got to sleep in. Since it was our second day in the Bighorn National Forest, we could sleep as late as we wanted. I got up at 8:30, and Mike had a fire going. We had oatmeal and hot chocolate for breakfast and lots of people just sat by the fire for awhile. There were a lot of different hiking trails that started in the campsite. I took a trail that went to the top of one of the higher peaks in the area and ate lunch up there. It was quite windy on top. After that, we went swimming in the river. Almost everybody was in the river. There were spots where the water was about 5 feet deep. After we swam for a while, we spent about an hour sunbathing on a rock in the middle of the river. Since nobody had any fuel left, dinner was cooked on a fire. All of our pots turned black. Brian and Casey made a squirrel trap out of a box and a fishing pole. We almost caught a squirrel as we sat there for 4 hours watching the box. All in all this was one of the best days.
---
Note: Journal entries and snapshots will be updated one day after they occur.
---
Additional Note: Once again we apologize for the lag in our updates. We are finding that high technology, roughing it, and a stingy National Park policy make it difficult to modify and make connections on a regular basis. Thanks for sticking with us despite these delays. Galen and Luke.
---
Snapshots From Day 28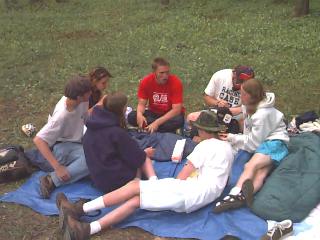 Some of the group hangs out on a tarp while at Prune Creek campground. We stayed at Prune Creek 2 nights, which gave us all some time to relax.

---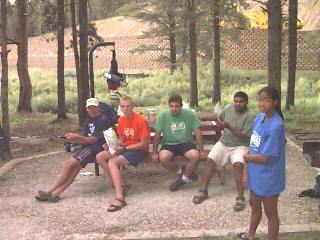 Some of the group decided to set up a trap for some of the local rodents. Here they stand waiting for one to enter the trap!

---
Previous/Next entries: