Day 27
Today's journal is written by Megan Hunt:
We woke up and left the campground by the river and stopped in Cody, WY to do laundry. When we finished we drove farther into town and stopped for a lunch break. We stopped at Taco Johns and then Cheryl and I went for a walk. We stopped in a small art shop and then went to the park where everyone was either lying around, playing on swings, playing hackey or throwing a frisbee. Then we left and rode to Prune Creek. When we got there I helped unload the bus and set up my tarp and then went for a hike with about five other people. We signed out for 3 hours and then were led by one of the guys, who had been on the trip last year, on this totally awesome hike. We walked through a field of wild flowers and then hopped rocks across a river because there wasn't a bridge. Then we hiked this mountain to the top. There was a great view on top, if felt like the top of the world. Then we climbed back down and tried to cross the river again but I had a few trip ups and one of the guys had to save me before I fell in. Then we walked back and started cooking supper. About six people from other groups migrated to Cheryl and I's tarp and we sat and talked till quiet time. Then we went to sleep.
---
Note: Journal entries and snapshots will be updated one day after they occur.
---
Additional Note: Once again we apologize for the lag in our updates. We are finding that high technology, roughing it, and a stingy National Park policy make it difficult to modify and make connections on a regular basis. Thanks for sticking with us despite these delays. Galen and Luke.
---
Snapshots From Day 27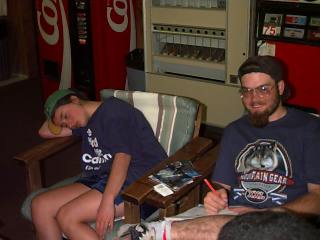 Kim and Lee hang out while waiting for their laundry to get done.

---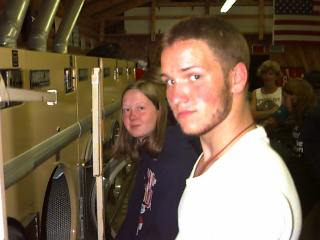 Sarah and Jeff smile for the camera while they dry their laundry.

---
Previous/Next entries: