Day 24
Today's journal is written by Mike Makowka:
I woke up in the greatest of moods today. Peter and I have decided that if we could stay on this trip for a longer time we would, but we would want to be with our families for a little bit before we continued. We left the "mosquitoe heaven" campground and went to our mail stop. My family sent me lots of goodies this time and some money also. I received so much candy that I think I will be bringing a lot of it home. We played at the park and had a water fight. Chris and I ended up dunking each other in the wading pool. The water was so cold and I ended up sitting with Chris on the bus and laughing about it for hours. We arrived at a campground very secluded from the rest of Montana. It's great, there's a river right behind our campsite and it feels like we are in some kind of enchanted forest. A group of us played hackey sack for awhile until we all got hungry. I can't wait to stay up all night and eat my junk food just before I fall to the sound of the river behind me.
---
Note: Journal entries and snapshots will be updated one day after they occur.
---
Additional Note: Once again we apologize for the lag in our updates. We are finding that high technology, roughing it, and a stingy National Park policy make it difficult to modify and make connections on a regular basis. Thanks for sticking with us despite these delays. Galen and Luke.
---
Snapshots From Day 24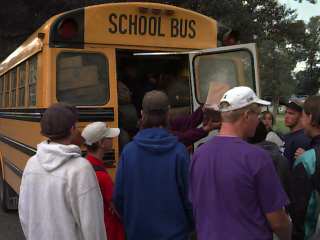 Everyone crowds around waiting for packages soon after the mail stop.

---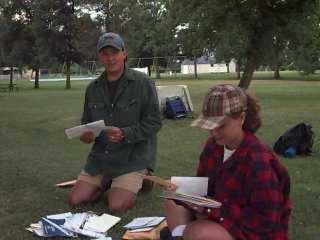 Mr. and Mrs. Saber distribute the new mail to the group at a local park.

---
Previous/Next entries: