Day 23
Today's journal is written by Christina Poplawski:
This morning we woke up at 6:30. Grecille was supposed to get up at 6:00 but Troy didn't wake her up. We got up and the first thing I did was went on the bus to get my change of clothes, and go to the bathroom and change. So then I came back and rolled up my sleeping bag and put it by the bus and same with all my other belongings. Today is not going to be a busy day, because we are taking Mrs. Steig to the airport and then picking up Mr. Saber. It will be pretty interesting on the bus because Jeff is right behind me and he is soo funny. Last night he pretended like he kissed me goodnight. It was funny. Oh, yea, I almost forgot! The camper that was next to us saw the school bus come in and told the ranger that she came here to have peace and quite and suddenly a school bus popped out. She didn't really like it very well. So this morning she said to us that she was sorry that we were the best kids she ever knew. We just went out of Canada. The guy (customs man) said beware of the cows, if you hit them you buy them. It was funny! Well, we just stopped at a gas station and we had about 10 things up on the counter and Grecille was buying and it only came up to $3.98! Grecille and I looked at each other like "what"! It was so wierd. They have no tax (in Montana). Thats awesome. We finally got to the airport. We went to the gift shop. I bought a card that has the poem foot prints. I am giving it to my best friend. We stayed there till 3:00. I also got an ice cream cone. Well, I called Allyson collect. We talked for about 20 min. I was so excited to talk to her today. Mr. Saber finally came and we all met him. He's cool. Mrs. Saber's mom made cookies for us. They were good. Not much more happened except we went grocery shopping and made hamburgers when we got to the campsite. We also slept in the tent that night because there where a ton of bugs.
---
Note: Journal entries and snapshots will be updated one day after they occur.
---
Additional Note: Once again we apologize for the lag in our updates. We are finding that high technology, roughing it, and a stingy National Park policy make it difficult to modify and make connections on a regular basis. Thanks for sticking with us despite these delays. Galen and Luke.
---
Snapshots From Day 23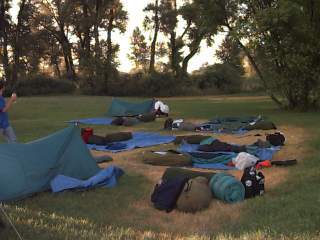 A shot of our campground in a national forrest in Montana.

---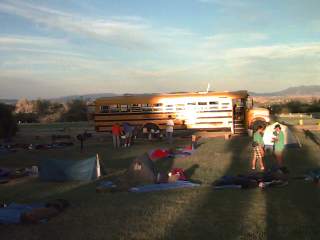 Another shot of the campground.

---
Previous/Next entries: