Day 22
Today's journal is written by Garret Kamenar:
At 2:30 this morning it started to rain so I called Chris in the tent and put up the tarp. I climbed in and went back to bed. At 5:15 my alarm went off so I could go take a shower but I didn't get up. I just went back to bed. At 6:00 we were woken by duty unit. I get up, packed up, and took the stuff to the bus. They loaded it on. We got on and left by 7:00 AM. At 9:30 AM we stopped at a gas station to fill up and for a 15 min break. At 9:45 we left. At 11:20 AM we pulled into a gas station. I went in and got an ice cream cone, which was very good. We got back on the bus at 11:45 ande headed to Waterton Lakes Canadian National Park. Hopefully we will stay there overnight. When we get there I will give my report about all the Canadian national parks. We got to Waterton Lakes around 12:30. We set up and I looked over my report. I took a little walk and saw an 8 point buck. I walked to the river, sat there awhile, then came back to camp with Chris. He made pancakes. They were ok. Then we washed dishes. I came back to camp and started a fire. When 8:00 rolled around we heard a report about wilderness survival, then I gave my report about the Canadian national park system. I sat by the fire a little then went to sleep.
---
Note: Journal entries and snapshots will be updated one day after they occur.
---
Additional Note: Once again we apologize for the lag in our updates. We are finding that high technology, roughing it, and a stingy National Park policy make it difficult to modify and make connections on a regular basis. Thanks for sticking with us despite these delays. Galen and Luke.
---
Snapshots From Day 22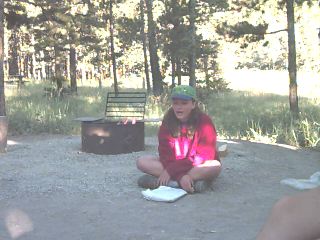 Kim Davis gives her report at Waterton Lakes.

---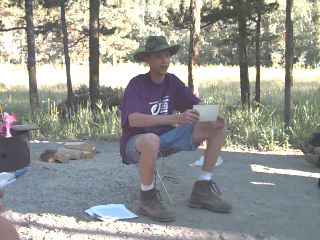 Garret gives his report on Canadian National Parks.

---
Previous/Next entries: