Day 21
Today's journal is written by John Cremer:
Today I woke up and had breakfast with my unit. We had oatmeal. Then we gathered up our dirty clothes and packed them in the bus, and headed for town. We got to the first laundrymat where we split up the group. Green, Orange, and the guys from Red stayed there and we went a little further to another laundrymat and bribed the girls (Christina and Grecille) into doing our laundry. Rob and I left to wander this little shopping area where it was early in the morning and everything was closed. We ended up at a convenience store and looked through magazines for about a half hour. Rob decided to buy two books and the new edition of the Metal Edge magazine. Then we went back to the laundrymat and on the way got fresh doughnuts at the bakery. We ended up going back to the bakery a couple of times to get the fresh rolls that were so good. We left the laundrymat and headed back to camp where we unpacked and I went to sleep. When I woke up from my nap, I had to choose between roller blading or mountain biking for two hours or doing an hour of each. I chose mountain biking. Then we left for the Nordic Center in Canmore where we rented mountain the mountain bikes and rollerblades. I got my helmet and mountain bike and chose a trail with some other guys in our group. We found a different trail because it had more downhill. Then we ran into the three we split up with and got into a little unorganized race. Then Troy went to try and cut across some grass but found a pipe with rocks instead. He totaled the frame of the bike but he was ok. So we brought the bike back and the rental guy was cool about it and took the bike back and said it happens. So after my two hours I got back to the bus and I found out that Grecille and Chris took some spillson the rollerblades and skined up their bodies a bit but otherwise they were ok. So we went back to camp and I took a nap until 7:00 PM and we went into town. We went to a mall and sat in the music store listening to music for over an hour. Then we got pizza from a place next door. Then we found the Hard Rock Cafe where a couple people and I bought Hard Rock Cafe boxer shorts. Then we wandered back to the bus. We went back to camp and hung out there for a while and went to sleep.
---
Note: Journal entries and snapshots will be updated one day after they occur.
---
Additional Note: Once again we apologize for the lag in our updates. We are finding that high technology, roughing it, and a stingy National Park policy make it difficult to modify and make connections on a regular basis. Thanks for sticking with us despite these delays. Galen and Luke.
---
Snapshots From Day 21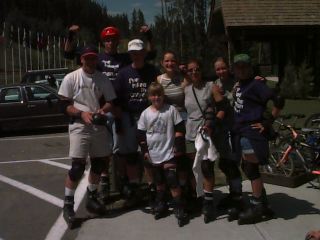 Getting ready to rollerblade! This was the first time for many members in the group.

---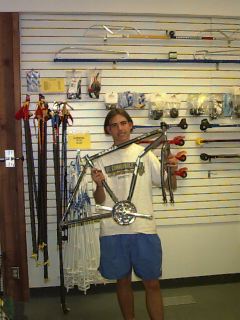 Troy holds up the frame of the bike he totaled. The bike was out of commission but Troy was fine. The repair shop already had the bike stripped by the time we got the camera out!

---
Previous/Next entries: