Day 19
Today's journal is written by Sarah Gaither:
I woke up this morning not remembering the occasion. Me and Jess started making oatmeal then Jessica Steig came over and said "happy birthday". I had totally forgotten that today was my 15th birthday. We packed up and drove from Montana to Canada and all I heard from everyone was "happy birthday, Sarah". We got to Canada at about 11 AM and we drove around pretty much all day. We were supposed to go to Kootenay but I guess they wanted to ride the ferry across some lake. Now, the highlight of my day was when I came out of the Petro-Canada gas station and boarded the bus. Everyone was already on the bus and when I walked down the aisle, Jeff started singing "Happy Birthday" to me. Everyone started and it was just the coolest feeling. I sat down in the joker seat and I cried for about a half an hour after that. That was probably the nicest thing anyone has done for me. Jess saw me crying and she hugged me, which made me cry harder. We boarded the ferry later on, crossed the lake then we drove around some more. Steig bought meals for us at McDonalds and while we were there, Jeff bought me an apple pie and put a lit candle on top. They sang "Happy Birthday" again. Then I made a wish and blew out the candle. That was so nice of Jeff. I gave everyone a big hug and said "thank you". Then we got on the bus and drove around into the wee hours of the morning. Chris Rodriguez fell asleep on my lap which made it the most uncomfortable night of my life, but I guess all in all it was an awesome day.
---
Note: Journal entries and snapshots will be updated one day after they occur.
---
Additional Note: Once again we apologize for the lag in our updates. We are finding that high technology, roughing it, and a stingy National Park policy make it difficult to modify and make connections on a regular basis. Thanks for sticking with us despite these delays. Galen and Luke.
---
Snapshots From Day 19
Waiting in line for the ferry in Canada. The wait gave everyone some time to stretch out and relax. It was a much needed break on our 23 hour (more or less) drive up into and around Canada.

---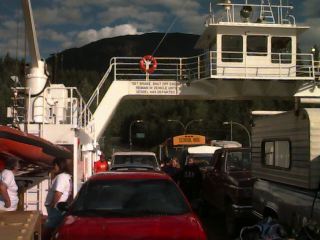 The trip on the ferry.

---
Previous/Next entries: