Day 18
Today's journal is written by Erin Martin:
Today I woke up at about 6:20 AM. We all got ready to go. We were off to Glacier National Park. We drove for awhile until we came to a town called Missula. We had an hour and a half to sort of roam the town. Cheryl, Megan, Keri and I decided on Dennys, even though Megan still had her heart set on Kentucky Fried Chicken. She gave in when she went past and could not smell the chicken because they were closed. We all ordered Grand Slam breakfasts. When we were done we all headed back to the bus. We were about 15 minutes early. We all got new seats and I sat next to Christina. We stopped at a gas station along the way and I bought a really gross popsicle. When we arrived at Glacier, Cheryl, Megan, Keri and I went up to the little town. Keri had to pick up some candy for her game. When we got back to camp we made dinner and then went back down to the little shops where Keri did her report. We went back to camp and went to bed.
---
Note: Journal entries and snapshots will be updated one day after they occur.
---
Additional Note: Once again we apologize for the lag in our updates. We are finding that high technology, roughing it, and a stingy National Park policy make it difficult to modify and make connections on a regular basis. Thanks for sticking with us despite these delays. Galen and Luke.
---
Snapshots From Day 18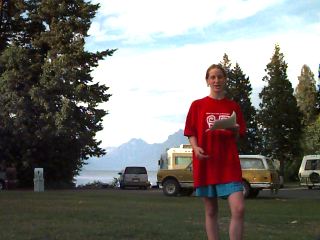 Keri Mueller gives her report on Glacier National Park/Waterton Lakes National Park.

---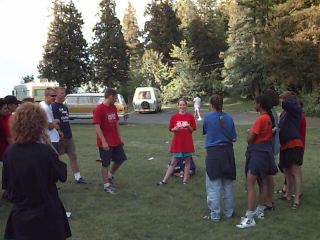 After her report, Keri led a quiz game on the area. Although the game was close, the guys won.

---
Previous/Next entries: