Day 15
Today's journal is written by Sarah Christensen:
We woke up at 6:30 AM and left at 7:30 to go where the Ulrich's did their fossils. We got to hunt around the scraps for any they missed. The guys working for Mr. Ulrich gave us each one good fish they dug up. We went back to the house for watermelon, which everyone gobbled up. I had 8 pieces. Then we drove and drove and drove. We stopped twice for bathrooms. We finally got to the City of Rocks and drove around looking for a campsite. We finally found one. Lee and I went to look for water. We found that it was a couple miles out of our way and headed back empty handed. The bus was just about to leave to get water when we got back. We started dinner when we finally got back. I had soup because my unit was making pancakes and I don't eat pancakes. After dinner Lee and I went to climb on rocks to pass time while everyone else finished dinner. After we got back, almost everyone played capture the flag. A few of us just watched. They ended their game around 10 and got ready for bed. There must not be a lot of pollution in Idaho because the moon was especially bright. Also, it wasn't completely dark at 10:30 but I'm not sure why.
---
Note: Journal entries and snapshots will be updated one day after they occur.
---
Additional Note: Once again we apologize for the lag in our updates. We are finding that high technology, roughing it, and a stingy National Park policy make it difficult to modify and make connections on a regular basis. Thanks for sticking with us despite these delays. Galen and Luke.
---
Snapshots From Day 15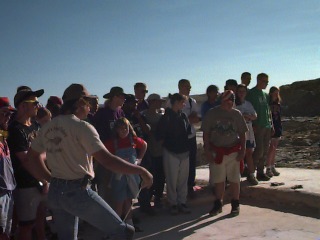 The group watches on while Mr. Ulrich explains the formation of fossils at his dig site.

---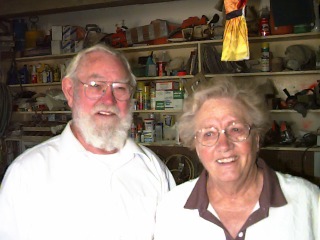 Very special thanks to Mr. and Mrs. Ulrich. Not only did they let us stay on their land near Fossil Butte, but they also gave us a tour of their dig site and made sure we all had good fossils. In addition, they also let us use their phone line to check our email. Oh, and they gave us tons of watermellon!

---
Previous/Next entries: