Day 14
Today's journal is written by Michael Jordan:
The day after the 4th of July. Everyone was tired, so we slept late. At 8:00 we were packed and ready to go from Utah Lake to pick up Mr. Steig's wife. When we reached the airport, we were sitting around with an hour and a half to spare. So I called my brother on the phone for a half hour, and then I called my friend and talked for a half hour too. Afterwards I went walking around the airport until it was time to go. I also had some TCBY white chocolate ice cream, it's the best. Once we got his wife we were on our way to Fossil Butte, where we would camp at Mr. Carl Ulrich's back yard. We played horseshoes, and wrestled. Mr. Urich was a very nice man and I recommend going to his gallery to see his fossils of art.
---
Note: Journal entries and snapshots will be updated one day after they occur.
---
Additional Note: Once again we apologize for the lag in our updates. We are finding that high technology, roughing it, and a stingy National Park policy make it difficult to modify and make connections on a regular basis. Thanks for sticking with us despite these delays. Galen and Luke.
---
Snapshots From Day 14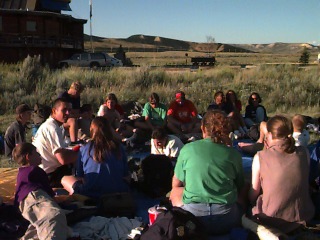 The group relaxes during their stay at the Ulrich's by staging a wrestling match. Can you say WWFS??!!

---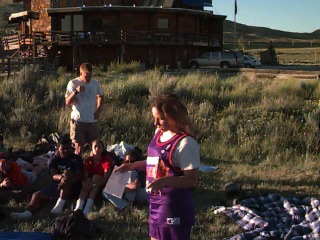 Megan Hunt explains to the group how the fossils in the area were formed.

---
Previous/Next entries: