Day 16
Today's journal is written by Chris Rodrequez:
Today we woke up at 5:45, we meaning the green unit. We have duty unit for the next couple of days so it's our job to get up before everyone else, pack our stuff up, and then wake everyone up. After green unit packed the bus we all got on. Mr. Steig gave a small lecture about the noise level last night. Then we left and were on the way to Craters of the Moon. The ride was long and the stops were short. At about 11:00 we listened to Cheryl give her report. After the report we had until 12:30 to explore the caves. Matt, Brian, Peter, Troy and I explored a cave named Indian Tunnel. We went to the left instead of the right. The right was twice as long and has collapses that allowed light to flow in so you wouldn't need a flash light. The left required the use of a flash light. After walking 225 feet we got to the end of the tunnel. 255 feet doesn't sound like much, but when you're climbing around over hills of lava rock in the pitch dark with a little Mag Light it's pretty crazy.
---
Note: Journal entries and snapshots will be updated one day after they occur.
---
Additional Note: Once again we apologize for the lag in our updates. We are finding that high technology, roughing it, and a stingy National Park policy make it difficult to modify and make connections on a regular basis. Thanks for sticking with us despite these delays. Galen and Luke.
---
Snapshots From Day 16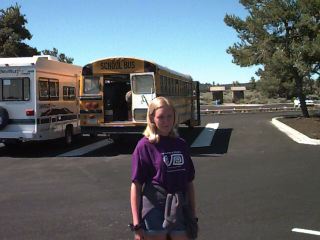 Cheryl gives her report at Craters of the Moon. She knew the stuff so well she did not even need notes!

---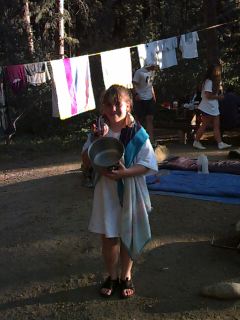 Jessica Steig enjoys herself after taking a dip in a local river near the campground.

---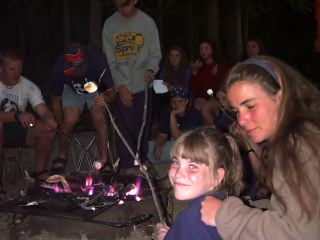 While at the National Forest campground, the group enjoys roasting marshmellows over a campfire.

---
Previous/Next entries: