Day 13
Today's journal is written by Steve Denzine:
Lee woke just about everybody up this morning. We are driving for a long time telling jokes. A bunch of people are singing the same song over and over and it's getting annoying. It kinda sucks not having fireworks on the 4th of July. Bummer! The bus was letting this nasty smoke out the back so we had to pull over to the side of the highway. We have not had any more problems so far. Earlier we pulled over for gas and I had a fried burrito. It tasted so good! We went to our camp site and there were people there so we went and did laundry and grocery shopping. We got back to camp and the people were gone but there were swarms or these bugs everywhere. Then, it decided to storm. The first clouds missed us, but a second set didn't. Few people in the camp stayed dry. I was one of the few.
---
Note: Journal entries and snapshots will be updated one day after they occur.
---
Additional Note: Once again we apologize for the lag in our updates. We are finding that high technology, roughing it, and a stingy National Park policy make it difficult to modify and make connections on a regular basis. Thanks for sticking with us despite these delays. Galen and Luke.
---
Snapshots From Day 13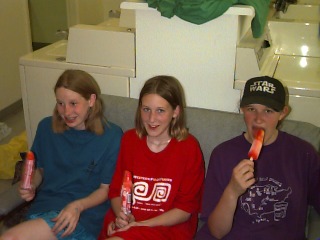 Keri, Erin, and Kori enjoy some things to eat while doing laundry in Provo, UT.

---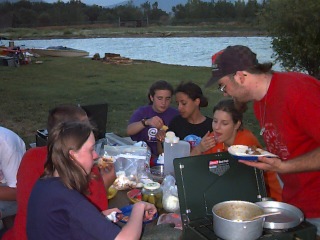 A few units cook up some good food the day of the wash and shop. Orange unit cooked up tacos, and Red unit cooked up hamburgers. Yum!

---
Previous/Next entries: