Day 12
Today's journal is written by Keri Mueller:
This morning Luke woke everyone up by shaking them at 6:00 AM. I must say I felt like I was dead to the world! Many people agreed and said it was too hot to sleep. As usual, everyone hurriedly got their sleeping bags, duffels, and tents ready to load the bus. We left at 7:00 AM and a lot of people fell asleep on the bus. Mr. Steig woke us up by swerving the bus. Swimming in Zion River last night was the bomb (as Sarah G. would say). Last night I tripped over Matt's tent stake and hurt my foot - it still hurts this morning. Oh well. Early this morning we hiked in Zion National Park for an hour. I hiked with Grecille and Cheryl, but we met up with a lot of other people along the way. Many other hikers that weren't from our group were friendly to us. We met up with a man who was going to hike the Grand Canyon in September. Cheryl kept talking on and on and on which she love to do and we finally headed back. Zion River is really beautiful and cold. The rocks shaped by the river are also unique. Earlier Lee gave a great report on Zion! Right now we are passing through the 1 mile tunnel out of Zion. It is awesome and you can feel a great breeze. As usual, Jeff and some other people are cracking perverted jokes as we pass through. We are now headed to Bryce canyon.
We finally got to Bryce Canyon around 1:00. First we took a lunch break where Cheryl and I split a can full of spaghettios. Yum! Then a bunch of us hiked a long way to the general store and restaurant. We hiked for 15 minutes and then took in all the beautiful scenery from a picnic table outside the general store for 3 hours. We had a lot of fun playing around. On the bus everyone was singing. It was also a 3 dollar T-Shirt day, so you get 3 dollars if you have your T-Shirt on. I received a stamp and will get the 3 dollars later. We stopped at Ruby Inn near Bryce Canyon for an hour and it had some cool souvenirs. Across the street there was a cool Indian rock shop. When we got to the campsite everyone set out their tarps and relaxed. While we were eating supper, Brian noticed a small snake in the grass. When we gathered around, everyone screamed when they spotted a frog in the snake's mouth. Some people took pictures. Then we had a campfire. We were happy when Steig let us stay up until 10:30.
---
Note: Journal entries and snapshots will be updated one day after they occur.
---
Additional Note: Once again we apologize for the lag in our updates. We are finding that high technology, roughing it, and a stingy National Park policy make it difficult to modify and make connections on a regular basis. Thanks for sticking with us despite these delays. Galen and Luke.
---
Snapshots From Day 12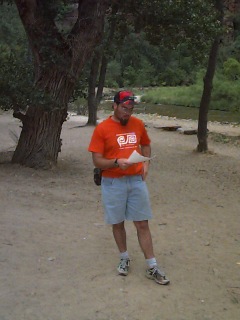 Lee Elliott enlightens the group on the formation of Zion.

---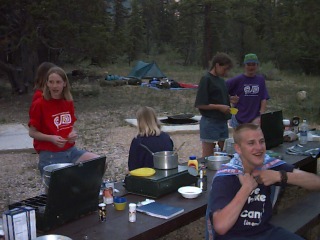 The group enjoys a good meal while camping near Bryce Canyon. Most people were fairly open and shared food with other groups.

---
Previous/Next entries: