Day 11
Today's journal is written by Chris Schuster:
We all got to sleep in! We got up at 8:00 and are supposed to be leaving at 9:00. so far everything is going ok. The day after the Grand Canyon hike and every bone and muscle in my body aches. Now that I think back on it, why did I ever do that to myself? We are on our way to Zion National Park. Also the first mail stop. I am so excited. I so look forward to getting letters and food from everyone I know. I received 15 letters (but no food). Tonight I am going to eat soup, and maybe some bread. So far today has been a fairly good day. But it is so hot on the bus you could feel a warm breeze on the bus coming in through the windows.
---
Note: Journal entries and snapshots will be updated one day after they occur.
---
Additional Note: Once again we apologize for the lag in our updates. We are finding that high technology, roughing it, and a stingy National Park policy make it difficult to modify and make connections on a regular basis. Thanks for sticking with us despite these delays. Galen and Luke.
---
Snapshots From Day 11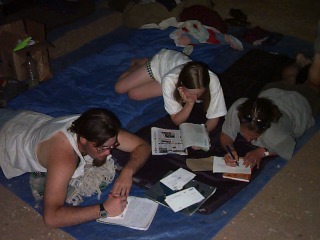 Lee Elliott, Sarah Christensen, and Carla Montgomery spend some time reading new mail and writing their journals.

---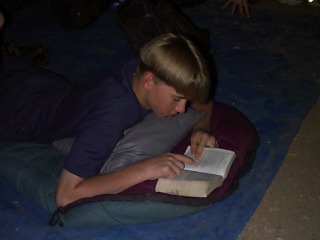 Casey McIntosh relaxes in his sleeping bag with a good book, The Stand. Several other people on the trip have also been busy reading the book.

---
Previous/Next entries: