This website is being brought to you through the efforts serveral people and organizations.
Luke went on trip 25, and was pretty much the main force behind the website. These days he keeps up what's left of the site.
Galen Steig-
Galen is the leader of the trip, and has contributed much of his time to this project. He has come up with many ideas for the pages, and has also designed a few of the graphics.
core.net Inc.-
Core.net was the company that provided the webspace needed for our pages. They offered their assistance to us on the trip, and have helped us with many things. Since then core.net has morphed into Pitnet, but the people responsible for helping us are still there. They actually still host the site, as LukPac.org is hosted through them.
As stated above, these pages are served up through core.net. Their web server holds the files and distributes them for anyone to see. For our dial in access while out west, we have signed up with Netcom Inc., who have a nationwide 1-800 number for when we are away from an urban area, as well as many local numbers for us to dial in to along the way.
---
We would like to give credit to some of the places that made all of this possible. The following businesses let us use their phone lines for 30 minutes to 1 hour each. Without them, this website would not have been able to be updated while we were on the trip. We are missing a few here, but here it goes:
Our Sponsors

| | |
| --- | --- |
| KC Ace Hardware | Provo, UT |
| Ruby's Inn | Bryce, UT |
| Mail Boxes Etc. | Missoula, MT |
| Trail Sports, Canmore Nordic Center | Canmore, Alberta |
| Skippy's Laundromat | Cody, WY |
| Walsh's Ace Hardware | Richland Center, WI |
---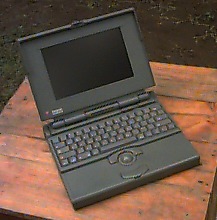 This page was assembled using BBEdit, Photoshop, Graphic Converter, and Quick Take software (for the camera). Hardware used was an Apple Performa 630, a Powerbook 165c, and an Apple Quick Take 100 digital camera.

---
For best viewing results, please use either Netscape Navigator 2.0.2 or higher, or Microsoft Internet Explorer 2.0 or higher.
---
Home