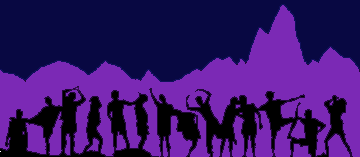 Course:
Western Field Studies is a one credit, science elective offered by the Racine Unified School District. It is open to qualified students who have completed 9th, 10th, or 11th grade and are living within the Unified District. The course is 33 days and travels by school bus approximately 7,500 miles through western United States and Canada. Program cost for the summer of 1996 is expected to be approximately $900. Refunds of unspent money are made to the student at the end of the trip. Financial assistance is available to qualified needy students. Approximately 30 seats are available. The tentative dates for the 1996 trip are from June 22 through July 24.
Responsibilities:
This is a full time immersion into the study of geology, biology, ecology, and the weather. Students are required to provide an in depth report and a presentation to the group at one of the areas visited. This includes submitting a written report and teaching the group about the area's scientific significance. In pre-trip work, the student is required to attend meetings with the trip group to obtain topic information, discuss living and traveling details, and become familiar with rules and guidelines. Grading is based on the students report and presentation, performance of unit duties, periodic quizzes, as well as their keeping of a personal journal.
Conditions:
Prior to departure the students will choose a tent partner and then be assigned to a unit of six persons. Each unit is responsible for buying and preparing food, housekeeping chores and periodic unit meetings. Two supervisors (1 male, 1 female) provide bus driving, organizational help and educational tours and information. This trip involves all-day efforts, from sunrise to sunset, seven days a week for five weeks. It is a physically demanding program with an average of four hours per day on the bus, camping and cooking in hot, cold, and wet weather, and infrequent stops for food, laundry, and showers. Students selected for the trip must be mature, trustworthy, and self reliant. There is no room for students who will deviate from the rules of lack the ability to use common sense. Some positive learning offshoots include leadership, responsibility, budgeting, shopping, cooking, parent appreciation, and an awareness for the qualities of every day life.
Destinations:
Some of the stops include the following National Parks, Monuments, Forests, and Scenic or Recreation Areas: Rocky Mountain, Black Canyon, Mesa Verde, Petrified Forest, Sunset Crater, Grand Canyon, Zion, Bryce Canyon, Fossil Butte, City of Rocks, Craters of the Moon, Glacier, Columbia Ice Fields, Banff (Canada), Yellowstone, Grand Teton, Devils Tower, Mount Rushmore, Wind Cave, Badlands. Please see the Places Page for more detailed information on where we are going.
---
Back