I took these photos during the trip on my non-digital camera (or in some cases, Steig's camera) and have them scanned in here for everyone to see. There are a ton more where this came from - it's just a matter of me scanning them in some time. Anyway, enjoy.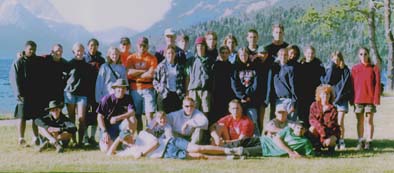 The group at Waterton Lakes National Park in Canada. About two thirds of the way through the trip, this was the group's last day in Canada. This shot was taken in the morning, as we were leaving the park. This shot was taken by Mrs. Steig.

Here the group was at Sunset Crater, in Arizona. We pulled into the area the day before, and did some exploring in the area. The next morning the whole group took a small hike near Sunset Crater itself. Carla, Laura and Jessica take a break from hiking to smile for the camera.
Mr. Steig, our fearless leader. Mike Makowka is sitting in the background. This was taken during our stay at the Grand Canyon. The day before the canyon hike, Mr. Steig warns the group of the dangers of hiking the canyon.
The canyon hike. Pictured are Jeff, Peter, Brian and Mike. The guys are taking a break at an area called Indian Gardens. It is about 4 miles from the river and is a nice stopping spot, with running water and restrooms. It is the first of three water stops on the way back out of the canyon.

At the time of this picture, Chris Schuster and I had been resting at the Gardens. Suddenly, the four guys appeared on the trail, who we though were ahead of us. It turns out they started going the wrong way and had to turn around!