3.28.2004
What kind of a country do we live in that
Scooby-Doo 2
can take the number 1 spot at the box office?
Sorry for the lack of updates, things have been busy. Work continues in the dining room and basement. We're shooting for next Sunday to get the walls primed in the dining room, but I honestly don't see that happening.
Work still sucks.
[
4:11 PM
]
3.09.2004
Yesterday at work I was having issues with my password - it had expired, and the system wouldn't let me change it. My boss set me up with a temporary password, but I couldn't change that either. So we called the help desk. After going back and forth a bit, things came to this:
"Well, I can just set your password here, what would you like it to be?"
"Umm...[I give my password]"
"Ok, that should be all set."
"But what about when I need to change it in the future?"
"Oh, just have your supervisor change it for you."
Uh huh. About an hour later, my initial temporary password stopped working, and the new password I had set up said it was expired. And I couldn't change it. Back to the help desk.
After checking to make sure I actually had a network connection (I did, obviously), this person had me try changing my password on another machine. That worked. That led to:
"Hmm, it still sounds to me like your machine doesn't have a network connection."
"No, that's fine, I've been on the mainframe all day."
"
Well, the mainframe doesn't go through the network, they are different.
"
[stunned silence]
This was from somebody on the HELP DESK. Those people who are supposed to know about computers. How did she think the mainframe was connected? Via magic? Fairy dust? Microwaves? X-rays? Maybe gamma rays.
In other news, Sears currently has all Werner fiberglass ladders on sale. We needed a ladder (ladders, actually), so we took a look. Initially it looked like the only extension ladder was a 20ft model for $179. Hmm...a bit pricey. I looked around, though, and eventually noticed a (fiberglass) 16ft model hanging above. The price tag on it read $49.97. No, that isn't a typo - $49.97. It was a computer generated tag, and even mentioned "16ft extension ladder". Hmm.
I got somebody to help, and he looked it up on the computer. The tag was indeed for the right ladder, but it was ringing up at $159.99. No matter - if a tag is lower than the computer they have to go by the tag, and they did. Plus I got another $5 off for being a Craftsman Club member. Go me.
[
9:05 PM
]
3.07.2004
Out with the old: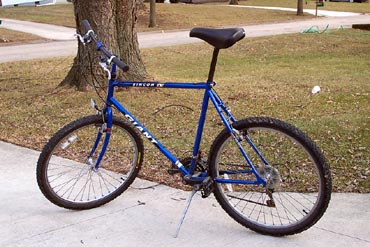 In with the new: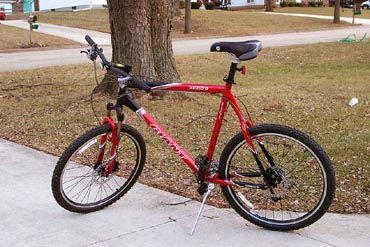 In other news, I find these messages really, really funny:
To: usenet (AT) lukpac.org
Subject: Important notify about your e-mail account.
From: management (AT) lukpac.org
Status:

Dear user of "Lukpac.org" mailing system,

Some of our clients complained about the spam (negative e-mail content) outgoing from your e-mail account. Probably, you have been infected by a proxy-relay trojan server. In order to keep your computer safe, follow the instructions.

For more information see the attached file.

Have a good day,
The Lukpac.org team http://www.lukpac.org

---

To: LukPac (AT) lukpac.org
Subject: Notify about your e-mail account utilization.
From: management (AT) lukpac.org
Status:

Dear user of e-mail server "Lukpac.org",

Your e-mail account has been temporary disabled because of unauthorized access.

Pay attention on attached file.

Attached file is protected with the password for security reasons. Password is 51706.

Best wishes,
The Lukpac.org team http://www.lukpac.org
Ahh, the wonders of viruses.
[
9:31 PM
]
3.01.2004
Random notes:
It's a bit disturbing when something
like this
happens to somebody you work with. Yes, I knew her, and no, I really didn't have much of an association with her.
Renée Zellweger was cute before Botox. Now she's just scary looking.
Her music sucks, but Shania Twain is hot.
I had forgotten how annoying Wheel Of Fortune is.
Billy Crystal just doesn't do much for me. Then again, the whole Oscar charade doesn't either.
The back yard is a bit of a mud pit, as I was out last night at midnight in the rain digging channels to get the water away from the house. Seems to be working so far.
[
7:10 PM
]